Adjustable Water Volume Drip System/Automatic Watering Device Adjustable Water
Using an automatic watering device to water the plants regularly can effectively extend the lifespan of the plants and make the plants grow better and more luxuriant.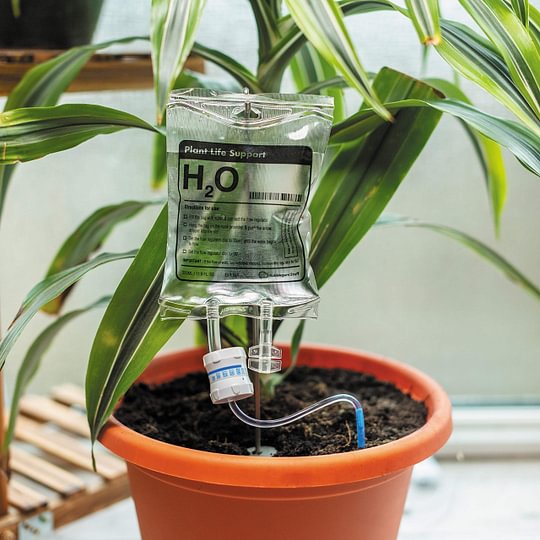 LIFE SUPPORT FOR YOUR PLANTS – Don't "leaf" your plants in the murderous hands of a slacking friend while you're away on your trip! The Plant Life Support Drip is the ideal solution and will drip-feed everything your plant needs for the duration of your vacation.

PERFECT FOR YOUR INDOOR PLANTS – the Plant Life Support Drip will take care of your flowers, parlor palm, or bonsai tree! It is the ideal size for a desk plant pot, hanging plant pot, or little terrarium. Seeds or succulent plants – you will never have to worry thanks for this smart yet simple gadget.
UP TO 14 DAYS – They will automatically water your plants: no need for micromanagement for up to 2 weeks! Just add water to the 350 ml IV bag and the system will do the rest – you can even add plant food!



GREAT GARDENING GIFT – If you are looking for novelty gifts or gardening gifts, the Plant Life Support Drip makes quite an entertaining and useful gift for your loved ones and as a Christmas stocking filler!
100% RECYCLED PACKAGING – The packaging is made from 100% recycled paper, making it an ideal product for any sustainable home. This eco-friendly gift is loved by kids, teens, and adults and is one of the top sustainable gardening gifts right now.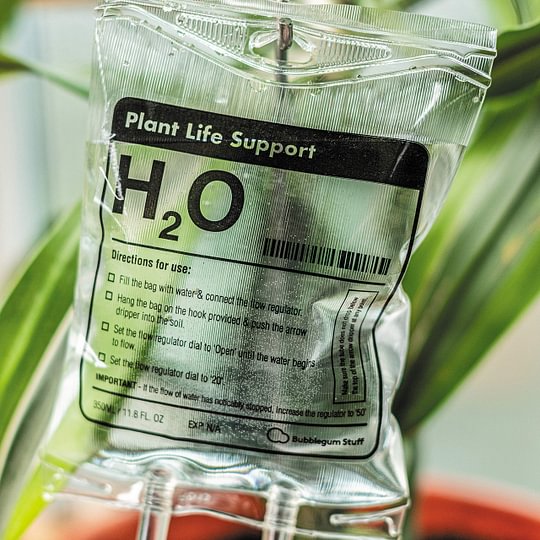 REASONS TO BUY:


 Precise& Easy Watering Hard-to-Reach Areas, The tope is flexible to adjust makes it so easy to get water to root & soil and not all over plant with dripping.

 Long Lasting Working Time plant self watering devices will give you peace of mind while on vacation.

 Ideal for All Plant Sizes,Let Your Plants Look After Themselves! No More Dead Plants Because You Forgot to Water Them.

 With independent control valve, you can control the flow rate of each pipe to meet different needs of various plants.

 Super easy to use, just fill water, insert into soil and adjust flow rate. Longer needle design to get deeper into the soil.

 Packaging made from 100% recycled paper