Kitchen Tools Meat Slicing Machine/meat slicer
A MUST HAVE FOR EVERY KITCHEN!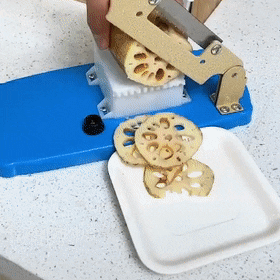 If you are a hot pot lover who regularly goes to the supermarket or Asian grocery store to buy sliced meat, you can make frozen meat at home and slice it with this meat slicer. It can save you half of the money for sliced meat and is more hygienic.
This easy to use meat slicer slices not only your soft and hard cheeses but can also manage other food items such as sausages, peppers, cucumbers, radishes, lettuce, and much more!
The meat cutter is equipped with an ergonomic handle and a thickness adjustable scale, this meat cutter is efficient and comfortable to use. Rubber feet on the bottom of the board protect your countertop and helps prevent slipping. You can add one in your kitchen or add one in your restaurant, it will save you a lot of time to cut meat and more.
FEATURES:
✓ HIGH QUALITY MATERIAL: The frozen meat slicer is made of high-quality alloy steel that can be easy to clean and enable for a long time to use.
✓ EXCELLENT DESIGN: Fixed Handle Design for frozen meat slicer. It won't move and this is easy to control and has no noise. Convenient to carry this meat slicer anywhere you want. 
✓ STAINLESS STEEL SHARP BLADE: The Stainless steel blade of this slicer ensures that you will effortlessly slice through meats, cheeses, and vegetables. 
✓ SLIP RESISTANT: The inverted triangular storage plate makes the meat pieces difficult to shake.