Support Socks For Men/Best Gradual Compression Socks/arch Support Socks For Men
#1 Graduated Compression Socks for Men and Women
The Ultimate Gradual Compression Sock. Available in Multiple Colors and Sizes!
Great for combating against Plantar Fascitiis, Varicose Veins & Diabetic swelling.
High performance – support socks with fibers to wick away moister!  By adding the technology of graduated compression, this sports sock gives you the added benefit of improved circulation while performing any sport or leisure activity.
FREQUENTLY ASKED QUESTIONS
Features:
Anti-Bacterial
DVT Protection
Graduated Compression (30 - 40 mmHg). A must have for men, women and elder at any age. The superior grade circular knit structure delivers 360-degree stretch for greater flexibility and durability. Stay put Cuffs Soothing feeling at the bottom and sides of foot, with no pinching.
High Performance Yarn
Advantages of our Compression Socks:
Improved Recovery – Therapeutic rated fabric provides greater pressure and recovery benefit leading to faster muscle repair.
Decrease swelling and inflammation –  Reduces pain from fallen arches, plantar fasciitis, varicose veins and muscle injuries.
Improved Circulation – Faster warm up and improved oxygen circulation. Encourages blood to the muscles and flush by products away.
Reduced Fatigue – Reduces muscle vibration (linked to muscle fatigue) improves muscle endurance and strength.
Reduced Damage – Performance Compression Sock muscle containment can reduce soft tissue damage in contact and intense sports.
Preventative support and aided recovery.
Heightened Proprioception – Heightened body position sense for enhanced stability and agility.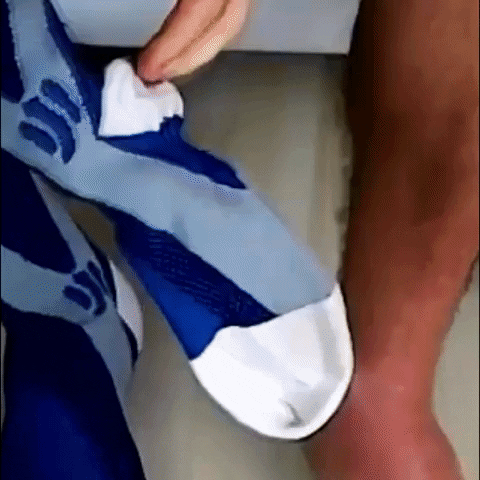 Place arm in sock palm to heel and grab heel with thumb like a puppet

Pull top of sock down and inside-out

Place foot in sock and pull over heel up to the knee
How do I know what size to get?
The different sizes, small medium large extra large, correspond to different shoe sizes. The sizes are meant to be equal to your shoe size.