The Largest Hammock in the World/Multi Person Hammock 3 POINT DESIGN Portable Hammock Multi-functional
Our largest hammock and the largest in the world, capable of holding 6 adults or a large group of kids.
The Hammock is the perfect option for large group trips, or large family trips. If building the ultimate base camp is your plan, then this is the hammock to include.
Don't let the size worry you, it's just as easy to set-up as all our other hammocks, which makes it perfect for first time tree campers and hammock owners who want something that's going to be easy to set up and unique to camp in.
Reinforced by 20+ metres of webbing and secured by heavy-duty ratchets and straps, the Hammock is able to take up to 6 lounging adults in pure comfort!
This giant 6-person hammock can be set up underneath any Tree Tent to create the one-of-a-kind, multi-storey hammock tent stack or left uncovered as the perfect outdoor lounging space.
Note:
Only use the product after reading and in accordance with the product manual.
Recommended setup height is 1.2m / 4ft.
Not suitable for more than 3 months continual use at a time.
Due to continuous design improvements, details may vary slightly from those pictured above.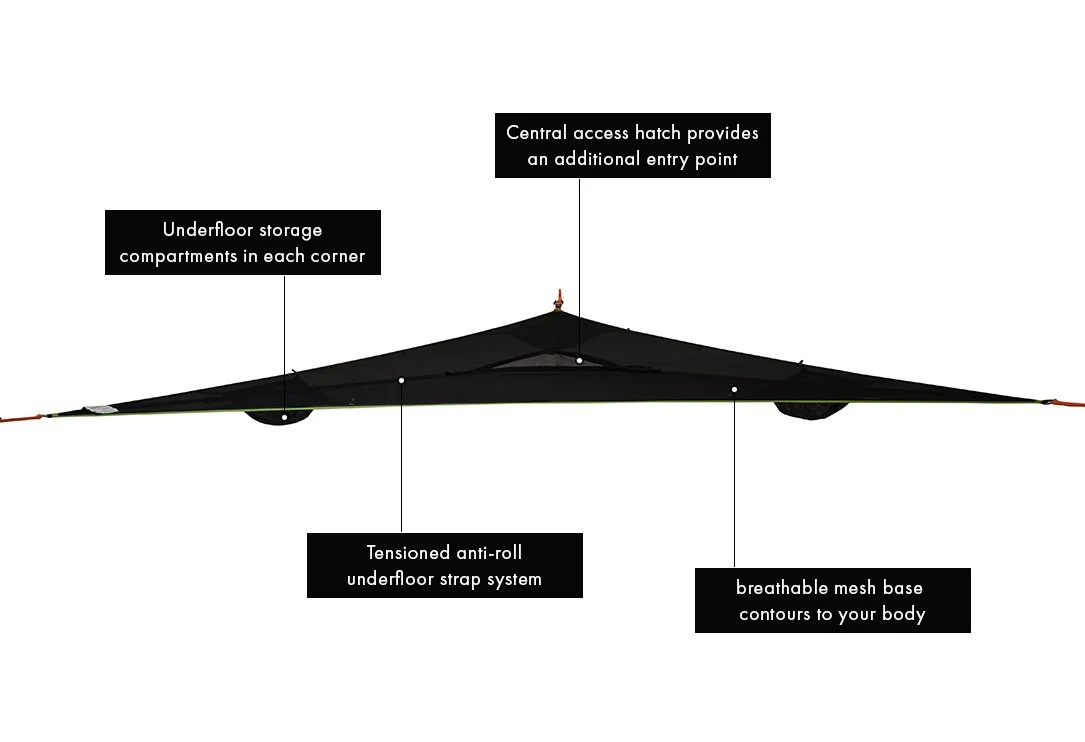 Key features of the Giant 3-Person Hammock
The unique tensioned anti-roll strap system not only reinforces the base, but creates 3 separate sleeping bays. The straps balance any weight differences and prevent both occupants from rolling towards the middle of the tent or the heaviest person.
The hammock is suspended across 3 anchor points which when tensioned create a taut surface to lay on. The hammock has just enough flex to cushion and wrap around your body without sagging too much. This means that unlike a traditional hammock, you can sleep however you like; on your front, back or side. 
The hammock was designed to hold 6 adults in complete comfort. However, thanks to the 1200lbs/550kg weight capacity, it can hold 6 adults and 9 kids instead. This makes the hammock perfect for family fun. The hammock is rated for 1,500UV hours of exposure.
With only 3 ratchets, the hammock is straightforward and can be done by a single person - though we'd always recommend having a friend on hand for ease.
The hammock comes with 3 underfloor storage compartments, giving you plenty of space to organise and store smaller items.
The built-in central access hatch makes climbing onto tent even easier.